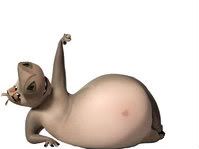 Hello! You may know me, I am Gloria aka Renée. Yes, that is me and I am sure you have seen me busy busting some moves. Need a reminder? Check me out twisting my hips and shaking the Earth in my video. My best moves can be seen around 1:34 but I am sure that you will enjoy the whole thing.
Clearly being a "big" girl I have no problem "moving it" but it is time for change. In my former life I was an aerobics instructor and generally stayed in shape. I was fit for my wedding, pregnant 2 months later but unfortunately lost the baby and a fallopian tube. I admit I was depressed and turned to food for comfort but became overjoyed when I became pregnant 5 months later. With a new attitude I started belly dancing, yoga, aerobics and water aerobics to stay in shape. Clearly very enthusiastic about fitness! As luck would have it, ending up on bedrest kept me off my feet and my exercise routine went out the window.
Fortunately the rest was just what I needed, my blessing arrived and all was well. Nursing helped me shed some pounds and I felt great. I started exercising earlier this year but after a medical problem stopped and haven't been back to the gym since April. My schedule as a work at home mom can get hectic and the gym just doesn't make the cut AND I am still paying fees!
After reading success stories of people losing 30+ pounds using the Wii and Wii Fit I know this is the way to go. With the Wii I can do all of my old fitness routines - step, running, and strength training. As a child I *was* the Hula champion (and it is very clear from the video that I still have my moves -bellydancing kept my hips in rotation), so I look forward to adding that to the mix. The idea of getting fit and having fun, in the comfort of my own home, on my own schedule is incredible!
All of the hard (and fun) work with the Wii will pay off because it will prepare me for the best role - a physically fit and healthy mother for my toddler. I can't think of a greater role for me to play!
I hope that my desire and need for a Wii and Wii Fit are evident -
Mile High Mommas
and
Los Angelista
are is having contests that I hope to win. Wish me luck! If I win I will post a picture of the real me moving it! An after photo of course, I have already graced you by moving in all of my rotundness.